If a user cannot drive in or out, this can have several causes.

1. The first step is to check if there is enough space available on the company's subscriptions and parking locations.
At the Parkres home screen, check the occupancy of all relevant subscriptions and parking locations. Click on the house icon at the top left.


2. If the subscriptions and locations are not full, check whether an old booking of the user is still open.

All parking movements are logged on the bookings screen. To view the reservations, go to Bookings → Bookings.


When a user has entered but has no exit, the departure time must be entered manually. After this, the user can enter again. To do this, right-click on the relevant reservation and select the option Manually update arrival or departure times. Then click Save. This booking is now closed.


3. If there is no open booking (or no booking at all), the next step is to check whether the subscription has been activated for this user and if the user's access pass is linked. Go to Employees → Users.


You can find the user via the search bar. The first step is to check whether the subscriptions (regular and possibly secondary) are activated and with a correct priority. Right-click on the user and select the Link to subscription option.


The Manage subscription screen will appear. Check whether the subscription is checked and if the priority per subscription is correct (is there is more than one subscription checked). The regular subscription has priority 0 and will be used first. The possible overflow subscription is given priority 1 and is only addressed when the regular subscription is full.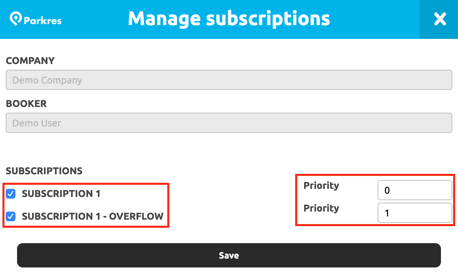 If the subscription/subscriptions is/are properly linked, the next step is to check whether the access pass number has been added. Right-click on the user (Demo User in this example) and select the Manage pass numbers option.


In this example, we assume that the users at this organization have access passes. The users have a MiFare access pass (Type: MiFare 32 bit or MiFare 56 bit) and a PIN code (Type: PIN-5) as standard if a keypad is present at the location. Also, the license plate is an access code that will be shown here (if there is a vehicle linked to the user).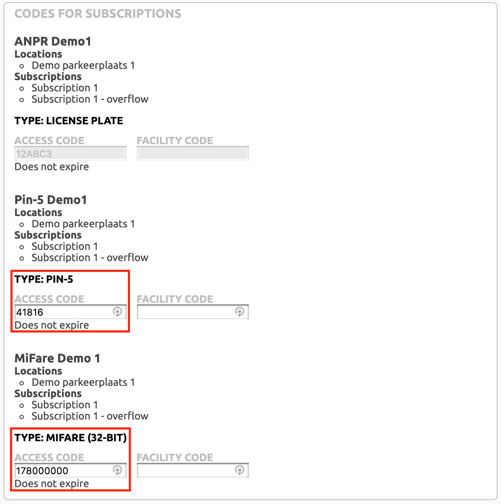 The Pin-5 code is created by default and can be used as a backup. In that case, the code should be entered as follows: #41816*. In case the access code field at Type: MiFare (32-bit) is empty, the pass must be linked. For an explanation on how to do this, click here.

Have you checked everything but can't find a reason why the user could not drive in or out? Please contact support@toogethr.com.