Find out the answer to your question in the video below:
Or read the answer here:
Please note: you do not necessarily have to plan a ride beforehand in the "Plan" screen. You can start a ride at any moment by going to the home screen "Record" and tapping the green "Start!" button.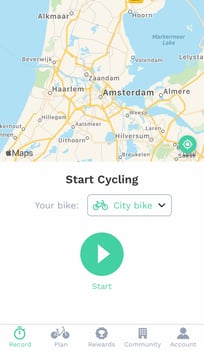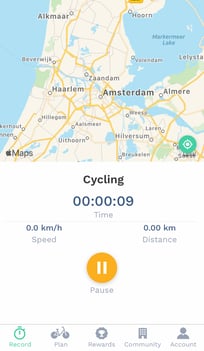 Once you arrive at your work location, click "Finish" and the points will be added to your account. Important! If you do not click "Finish" on arrival at your work location, you will not receive any points. After 25 minutes of inactivity (if not paused), the app automatically ends the ride.

If you already know that you want to go for a ride in the future, it can be useful to create an alarm. This 'cycle alarm' reminds you to start the Toogethr Cycles App before you start cycling, so you will be able to earn points during the ride. You can create this alarm as follows:
Tap "Plan" on the bottom of your screen;
Tap "+ Add alert";
Enter the departure and arrival location of your ride. Preferably enter the entire address;
Enter a time and choose whether this is the arrival or departure time (for example, depart at 9:00 or arrive at 9:00);
Confirm your ride by tapping "Add alert". You have now created your ride.
You created your bike ride.
After tapping on "Add alert" you have the option to:
Invite people: You can invite people for your ride. You do this by tapping "Invite people";
Add recurrent rides: Want to do the same ride more often? No problem! Tap "Set recurrence" and select the days on which you want to repeat the ride.
Important! When your bike ride actually starts, go to the "Record" home screen and tap the green "Start!" button. Even if you have created the bike ride, as described above, you must start and stop your ride manually.