If your organization uses access passes with which employees can open the barrier, Toogethr Parking will, in many cases, prepare these in Parkres to link them.

Go to Subscriptions → Manage access codes to link an access pass.

The overview shows all passes for the location. For access passes that already have been linked, the column Occupant shows the user to whom it is linked to. Passes that have not been linked yet don't have any values in the Issued to company and Occupant columns.


First of all, the pass has to be linked to the company. Right-click on the pass, 1369 in this example, and select Issue to Company.

Select the relevant company from the dropdown menu under Issued to company. Then click on Bulk issue at the top right of the screen to link the card to the company.


Now, the pass needs to be linked to the user. Right-click on the pass and select Edit.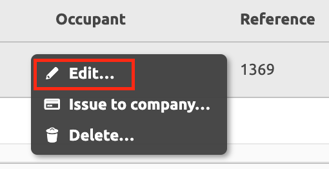 Select the user from the Booker drop-down menu and then click Save at the top right.

The pass is now linked and can be used immediately.