All parking movements are logged on the bookings screen. To view the booking, go to Bookings → Bookings.


You will see an overview of all bookings for your organization. You can filter these via the search bar.

To manually create a new booking, click on Add booking at the top right.

In the pop-up screen that appears, select the Parking location, fill in the Scheduled arrival time, the Scheduled departure time and the Email address, First name and Last name of the user. The rest of the fields are not required.

You can also check the boxes at the bottom of the screen: whether or not to send a registration email for new users, a confirmation email to the user, to create an invoice, and whether a notification must be sent after the user has arrived at the parking location.

When you have entered all the necessary information, click on the Save button at the bottom of the pop-up screen to create the booking.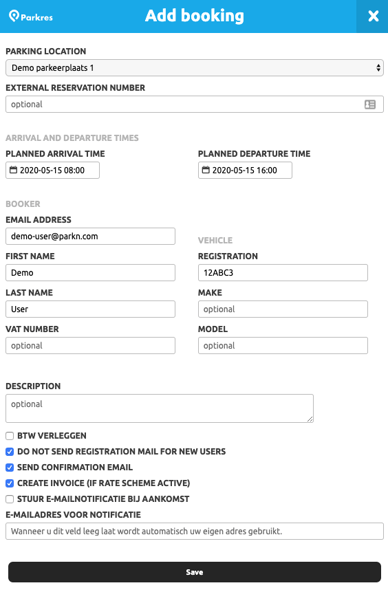 The booking has been created and can be found in the list of bookings. You can search for certain bookings in the search bar by name, parking location, booking date, license plate, etc.