How do I invite someone to my ride?
Bekijk het antwoord op de vraag "Hoe nodig ik iemand uit voor mijn rit?" in deze video:
Of lees het antwoord hier:
Wanneer je al weet met wie je kunt samen rijden hoef je natuurlijk niet te wachten op een suggestie maar kun je deze collega direct op je rit uitnodigen.
Tik op de rit waarvoor je iemand wil uitnodigen in het "Ritten" scherm of maak een nieuwe rit aan;
Tik op "Mensen uitnodigen";
Typ in het zoekvak de naam of het zakelijke e-mailadres van degene met wie je wil samen rijden. Wanneer iemand de app al gebruikt kun je de naam invoeren, wanneer iemand de app nog niet heeft kun je het zakelijke e-mailadres invoeren en ze een uitnodiging sturen;
Er verschijnt een lijst met personen. Tik op degene die je uit wil nodigen voor jouw rit;
Je kunt meerdere personen opzoeken en aantikken en op "Stuur uitnodiging(en)" tikken wanneer je klaar bent.
Wanneer de persoon die je hebt uitgenodigd reageert op jouw uitnodiging, dan krijg je hier een melding van.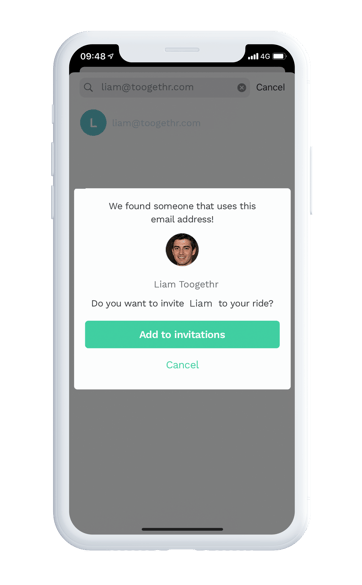 ----------
Sometimes, it's not necessary to wait for any rideshare suggestions. You might just want to invite your friends from work, or get your carpool partner on board, who have joined a lot of your commutes already.
Tap on the ride to which you want to invite someone in your "Rides" screen, or add a new ride.
Tap on "Invite people".
In the search field, you can enter the name or e-mail address of the person you would like to invite. If someone is already part of the Toogethr app, type the person's name. If the person you want to invite has not yet downloaded the app, invite them by e-mail. Only employees of a Toogethr partner can be invited by e-mail.
A list of persons that match your search will appear. Tap on the person(s) you would like to invite.
You can add more colleagues and click on "Send invitation(s)" when you're finished.
When the person you've invited responds to your invite, you will get a notification from us.